PICTURES FROM THE 2008 TOUR
INTERVIEW FOR PROGRAM OF
THE HISTORY CHANNEL
"

SHOCK WAVE

"
Crash sitting patienly for the interview to start. As you can tell it was a very damp day in Lincoln. In the back-ground is the Junk Yard Art once again seen thru out the country.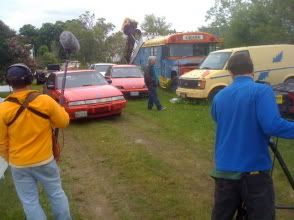 One of the scene is Crash walking thru his back lot of stunt props that some people think is junk.







A close up shot of Crash.
THE STUNT PERFORMANCES HAS STARTED!!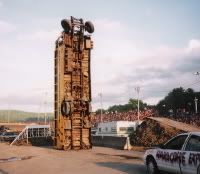 Picture here are the three acts that we performed at the Lebanon Valley Speedway in 2008. From left to right you see the school bus standing up, the large dirt pile to jump the coachman off and the car we will blow up in a fiery ball of flames.
The automobile headed to the ramp to leap into the up righted school bus.
See the front end of this car after hitting the bus straight on about 18 feet in the air.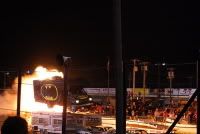 The flying Batmobile Motor Home
on the THRILLMASTERS STUNT SHOW
.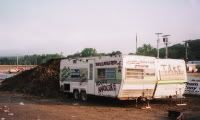 The giant dirt pile that sent the flying Batmobile Coachman Motor Home thru the air during the Thrillmaster's Stunt Spectacular at the Valley on the 2008 Eve of Destruction.
The after mass of the Coachman's 60 foot jump.
A look head-on of the Coachman .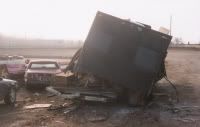 The rear view of the Batmobile Coachman.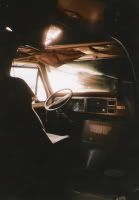 A look of the inside of the demolished Coachman.












Picture is two of the three stunts that wI performed at Monadanock Speedway in New Hampshire.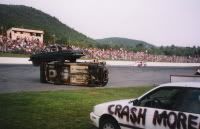 Set up of the Torpedo Crash at Monadnock. Look at the size crowd that was on hand.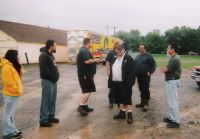 The KSR Crew waiting for the news of the show being cancelled because of the inclimate weather.The show was reshedule for the next evening in which I performed the Dooms Day Chair.





I do not have many still pictures of what I did this year as most everything I did was the same as years before and during my two complete shows I was so busy I didn't have time to take photos. If anyone did I wish they would send me a copy.